"Wilderness…the word suggests the past and the unknown, the womb or earth from which we all emerged. It means something lost and something still present, something remote and at the same time, intimate, something buried in our blood and nerves, something beyond us and without limit."
Edward Abbey
The Huntington-Oyster Bay Audubon Society is a chapter of the National Audubon Society serving Northern Oyster Bay and Huntington Townships. Our territory reaches from Fort Salonga in Suffolk County to Centre Island and Oyster Bay in Nassau County....click here to see the complete list.
---
Huntington-Oyster Bay Audubon works to protect birds and other wildlife, and the habitats upon which they depend through education, public advocacy and conservation action.
---
Reptiles and Amphibians of Long Island
with Russell Burke, Phd
Wednesday, October 8, 2014 7:00 PM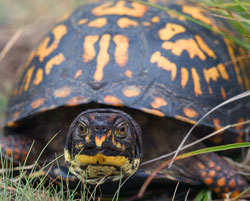 This discussion will be an overview of the reptiles and amphibians of Long Island, and why this is a special place for these species. Long Island is the home of many interesting herps, some that are common elsewhere and others for whom Long Island is a very special place. Tonight's discussion will emphasize several herp species: diamondback terrapins, Eastern box turtles, hognose snakes, Italian wall lizards, and tiger salamanders.
---
Invasive English Ivy Pull at Shu Swamp
Saturday, September 20, 2014 - 10:00 AM
Join us in helping to restore one of the finest preserves on Long Island. Come to the swamp for this fun and worthwhile effort. Snacks will be provided to the volunteers. Bring garden gloves if you have them; wear clothes and shoes you don't mind getting muddy.
---
Huntington-Oyster Bay Audubon
Society Bird Seed Sale
Saturday, November 8, 2014 - 9:00 AM at Huntington High School
Huntington-Oyster Bay Audubon will be holding its annual birdseed sale fundraiser on November 8, 2014 at the Huntington High School. This seed sale is a unique opportunity to stock up on birdseed for the winter while supporting a local conservation organization. Order forms can be downloaded here. Please note that your check must be received by October 20, 2014. Proceeds from this fundraiser will benefit our conservation, environmental education and youth programs. Thank you for your support!
Click here to download the order form
---
BREAKING NEWS!
The Audubon Birds and Climate Report
Audubon scientists have used hundreds of thousands of citizen-science observations and sophisticated climate models to predict how birds in the U.S. and Canada will react to climate change. Our work defines the climate conditions birds need to survive, then maps where those conditions will be found in the future as the Earth's climate responds to increased greenhouse gases. It's the broadest and most detailed study of its kind, and it's the closest thing we have to a field guide to the future of North American birds. This comprehensive, first-of-its kind study predicts how climate change could affect the ranges of 588 North American birds.
To read about the study, its implications and how it effects birds in your neighborhood, please visit the Audubon Climate website.
---
Action Alert!
Help Protect and Restore Jamaica Bay Wildlife Refuge's West Pond
---
Huntington-Oyster Bay Audubon Society Receives
Major Funding for Habitat Restoration Project
at Underhill Preserve...Learn More
---
In Memoriam
Remembering
William (Bill) Brett Reeves
September 10, 1935 – November 24, 2013
---
Plum Island: The Latest News and How You Can Help
Plum Island's rich wildlife habitat is in danger of being sold to developers! Learn More
---
We are proud to announce that we have established The Bill Reeves Scholarship Fund in order to send under-served children and youth to nature based camp. Learn how you can help here
---
Long Island River Otter Research
The Huntington-Oyster Bay Audubon Society ("HOBAS") has funded two wildlife surveillance cameras that have been placed in areas where evidence of river otters have been found within the chapter territory. Learn More...
---
---
---
---